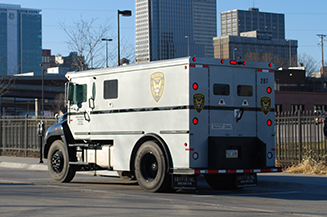 Safe and Secure Armored Transportation
The backbone of Rochester Armored Car's great reputation for customized service to its customers is its extensive Armored Transportation. Since 1964, Rochester Armored Car has been called upon by all types of businesses and government agencies to provide safe and secure transportation of valuables. Rochester has the expertise and experience to get the job done right.
Key benefits of Rochester's Armored Transportation include:
UL approved armored vehicles with two or three uniformed, armored professionals who are trained to take "Care, Custody, and Control" of your shipment until its delivery to the designated point.
All shipments are fully insured against all risk while in our possession or in our vaults. Insurance certificates are provided readily and ongoing to customers.
By using our armored service, risk to your employees traveling outside your business is eliminated.
How It Works
We work with you to get a better understanding of your needs, whether that includes deposit pick-up and change delivery or large coin and currency shipments between financial institutions and the Federal Reserve.
You choose frequency, day, and time parameters.
Seven-day service, holiday service, and after-hours service available in most cities.